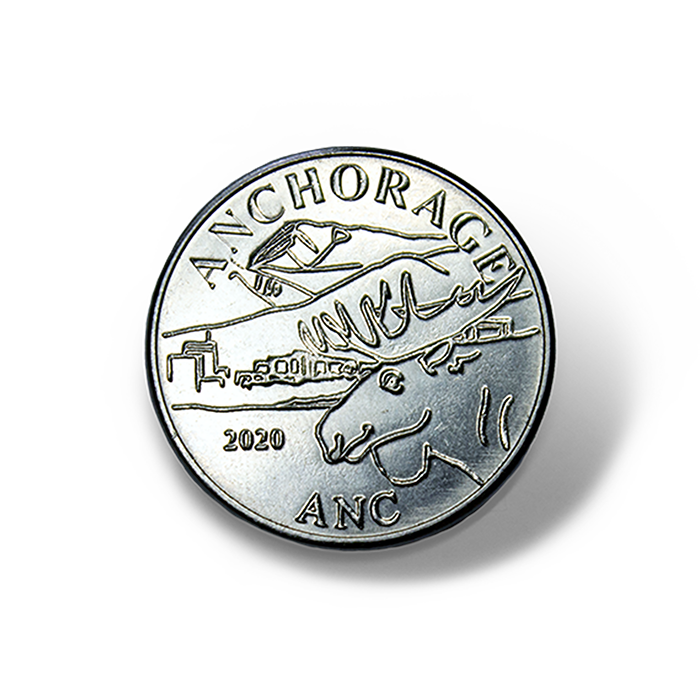 Reverse Description
The view of the Chugach Mountains, the downtown Anchorage skyline and one of the many moose found wandering along the Tony Knowles coastal trail.
2020 Tokn - Anchorage
Artist: Cheryl Lacy
Cheryl was born and raised in Anchorage and is an Alaska Native Silver-hand artist. She has been drawing and painting all her life – she lives to draw every day. Her art reflects her whimsical side – life is too short not to laugh. Her favorite mediums are pencil, pen, charcoal, watercolors, oils and acrylics. She also uses non-traditional material to make pictures – beads and found objects.
She loves ravens (coincidence?!) and bears and paints, draws, and beads them endlessly. That they are represented in almost every culture on earth, yet mean different things to each gives her great joy. Cheryl feels she is one of the luckiest people in the world because she loves her work: whether it's her family history, fun things to do, or places she has been, her job is to tell stories via art.
Check out more from Cheryl Lacy at: Dancing Raven Designs
Destination Information
Anchorage is located in Southcentral Alaska ... and is where the Ravn Alaska headquarters resides! The largest city in Alaska, Anchorage contains nearly 40% of the state's population. The largest subspecies of moose, the Alaskan moose, are commonly seen throughout the Anchorage Bowl. Their antlers on average have a span of 5.9ft and males can weigh up to 1,400 lbs.
Nicknames: "Los Anchorage", "The City of Lights and Flowers"