Ravn Alaska Commemorative "Tokns"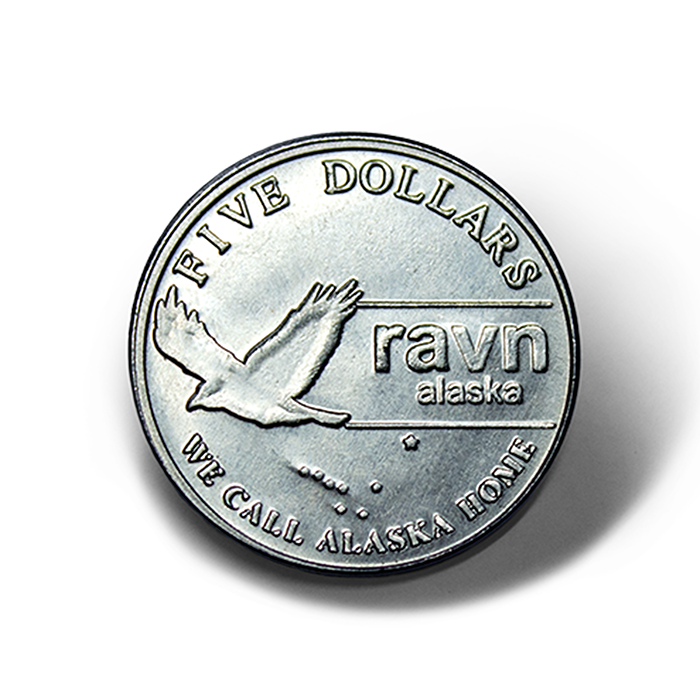 Obverse Description (reverse varies by coin)
Has the Ravn Alaska logo and slogan, "We Call Alaska Home" and displays the Big Dipper (constellation Ursa Major) which symbolizes a bear, an animal indigenous to Alaska. As depicted on the Alaska state flag, its stars can be used as a guide to locate Polaris and determine true north.
To commemorate our return to serving Alaskan communities, we are proud to introduce the Ravn Alaska collectible "Tokn" series featuring all our destinations, each with original art by local artists!
Each "Tokn" is minted in a single limited run and is only available (in Anchorage) when flying to or from each specific community!
All proceeds go to charity.
No cash value but can be used as $5 with Ravn Alaska!)
2022 and on:

St. Paul Island
Unalakleet
Sand Point
Cold Bay
St. Mary's
Aniak
(5,000 minted each.)
Tokn Specifications:
DIAMETER: 1.205" (30.61mm)
THICKNESS: 0.085" (2.15mm)
WEIGHT: 0.4oz (11.34g)
MATERIALS: Nickel-plated Brass