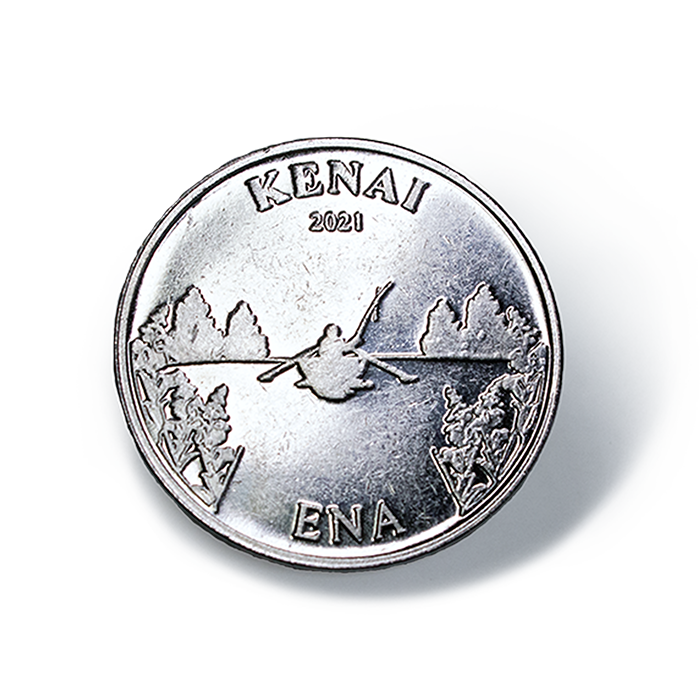 Reverse Description
A local fisherman enjoys the infamous and mighty Kenai River, with fireweed and spruce trees surrounding.
2021 Tokns - Kenai
Artist: Kimberly Jones
Kimberly felt inspired to display the mighty Kenai River, where she has spent many floats with her family and friends, basking in sunshine and enjoying the scenery. Whether it's trout fishing on the upper, snagging lips in the middle, or dipnetting at the mouth, the Kenai River holds many happy memories for her.
Destination Information
The city of Kenai is named after the local Dena'ina (Tanaina) word 'ken' or 'kena', which means 'flat, meadow, open area with few trees; base, low ridge'. This describes the area along the mouth and portion of the Kenai River near the City of Kenai. This river is the most popular sport fishing destination in Alaska, attracting thousands of avid anglers from across the globe.
Nicknames: "The Village With a Past, the City With a Future"
Are you a local Alaskan artist that is interested in designing a Tokn? Please reach out with a link to your portfolio or website. We are always looking for more talent for future designs!