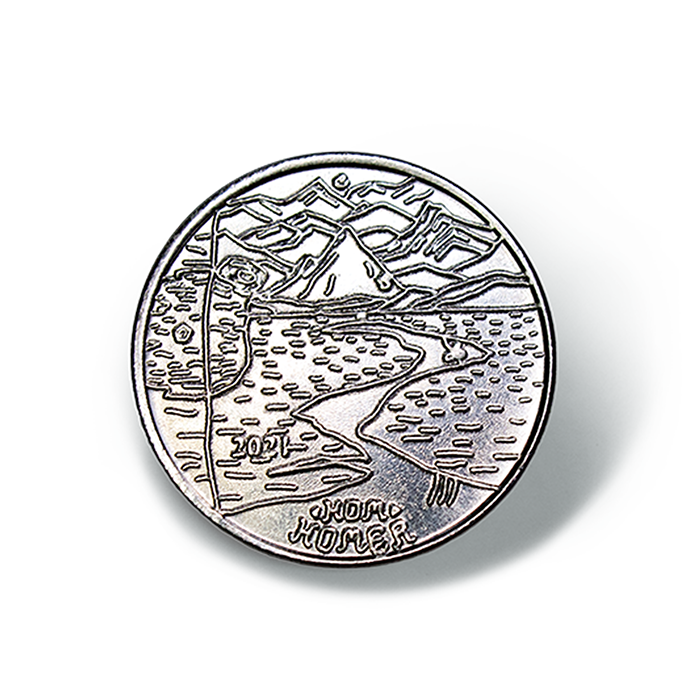 Reverse Description
The design represents the iconic view of the Homer Spit, Southern Kenai Range, and Kachemak Bay from the top of Homer's northern coastal hills. It also features a nichił (a kenai birch tree) embedded with a five-sided amber agate which symbolizes the modern peoples of the lower Kenai peninsula mainland, the Ninilchik tribe.
2021 Tokns - Homer
Artist: Argent Kvasnikoff
Argent Kvasnikoff is an Alaskan artist from the Ninilchik Tribe of the southern Kenai Peninsula. He was born in Homer and currently resides in Ninilchik. His works are driven by ideas of inter-cultural evolution and and most notably he is known for inventing a written alphabet and writing system for his culture's dying Dena'ina language to preserve it with symbolism and give it new life by using it to write any of the world's used languages from past to present.
The design includes symbols relating to the native heritage of the location designed by the artist. These symbols include created letters representing Dena'ina language based names for the geographical features of the area:
Tiq (Three curved strokes) for Tuggeht, the name of the Homer bluffs.
Uz (Sea star knot) for Uzintun, the name of the Homer Spit.
Xil (Outline of grass basket with lid) for Xokolatlit, a modern translation of Chocolate Drop Mountain invented by the artist.
Q'es (Cloud shaped curl) to represent the artist's clan's creation story.
Destination Information
Homer (Dena'ina: Tuggeght) is a city in Kenai Peninsula Borough in the U.S. state of Alaska. It is 218 mi (351 km) southwest of Anchorage. The population is 5,003. Homer is the southernmost town on the contiguous Alaska highway system. It is also part of the Alaska Marine Highway (the Alaskan ferry system).
Nicknames: "The Halibut Fishing Capital of Alaska"; "The End of the Road"