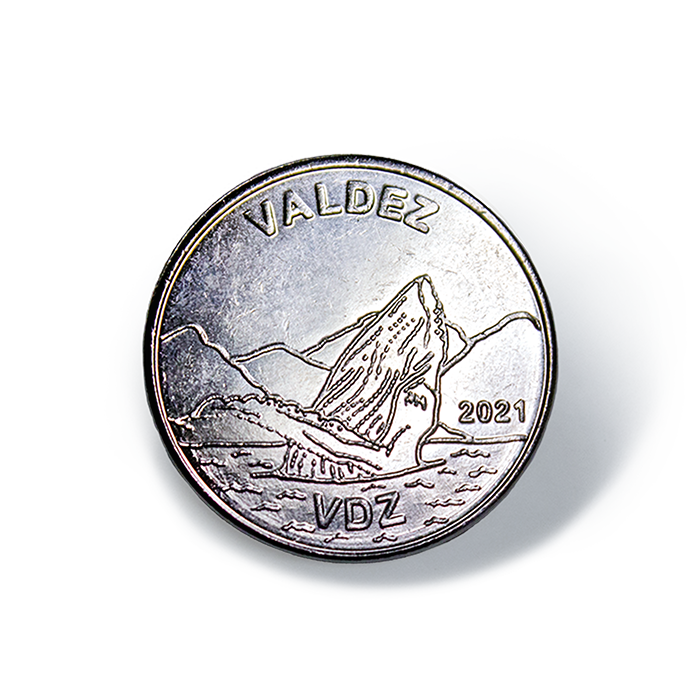 Reverse Description
A humpback whale breaches out of Port Valdez displaying his power with Chugach Mountains in the foreground.
2021 Tokns - Valdez
Artist: Magnolia Altamirano
Magnolia, originally born in California, moved to Alaska in 2020 and took the opportunity to pursue her art career. Art has always been a major part of her life, but she never saw it as a career. After spending more than a decade in the medical field, she enrolled in the Fine Arts program at UAF to pursue what she truly loves. What inspires her the most is mother nature, specifically the animal kingdom. She is the happiest when she's painting animals and believes they are the most perfect creatures that mother nature has provided in our world. She would like for her viewers to see the perfection that animals provide. Her original artwork currently available for sale and prints are available for purchase at her website; magnoliaflowerart.com. Viewers can follow her art journey and find out about her in-person events on Instagram @magnolia_flower_art or Facebook @magnoliaflowerart.
Destination Information
Valdez is a port city in Southcentral Alaska, located on the eastern side of Prince William Sound. It is home to the southern end of the Trans-Alaska Pipeline built to carry oil from the Prudhoe Bay oil fields in northern Alaska to Valdez for export. It is North America's northernmost port that is ice-free year round. The port also functions as a major fishing port, both for commercial and sport fishing, and for sightseeing cruises of the marine life and glaciers.
Nicknames: "The Land of Waterfalls"; Alutiiq: "Suacit"